Ayurvedic Treatments
Increase your well-being and long term health,
by listening to your inner voice.
Ayur-ved is based in Nottingham
For further information and to make an appointment contact Sapna on 07958 670 664 or
sapna@ayur-ved.co.uk

Ayurvedic Massage & Holistic Therapy
Maintaining your balance with the knowledge of Life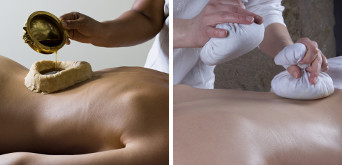 Abhyanga Marma - Full Body Massage £55.00
Ayurvedic Herbal Oil massaged into the body to stimulate the Marma Points, leaving your body rejuvenated and revitalised.
Benefits:
Exfoliates
Improves circulation
Reduces stress and tiredness
Improves muscle tone
Eczema
Peethabhyanga – Back Massage £35.00
Using rhythmic massage techniques with warm oil this treatment relieves tensions, back pain and general feeling of relaxation.
Benefits:
Releases tension
Improves circulation
Shirobhyanga – Head, Neck and Shoulder Massage £30.00
The head, neck and shoulders are massaged in a rhythmic style using Ayurvedic Herbal Oil, focusing on the Marma Points. This treatment also nourishes the scalp and promotes healthier hair.
Benefits:
Promotes hair growth
Relieves stress, fatigue and anxiety
Migraine
Insomnia
Padabhyanga – Lower leg and Foot Massage £30.00
Starting with the lower leg, followed by a foot massage this treatment stimulates the Marma Points to reduce stress and tension leaving you feeling relaxed and your feet feeling nourished. A relaxing treatment after long flights.
Benefits:
Improves blood circulation
Mukhabhyanga – Facial Massage £35.00
Mukhabhyanga – Facial Massage with face mask £40.00
Working on the face, neck and head, massage to the Marma Points increases energy flow and lifts the muscles; also beneficial for problem lines.
Benefits:
Physical and mental wellness
Anti-ageing
Improves muscle tone
Improves complexion
Pinda Sweda – Massage with Muslin Bag or Bolus - Full Body: £65.00
Back Only: £40.00
Herbal Powders are placed in a small muslin bag and rhythmically pressed over the body with warm oil.
Benefits:
Arthritis and back pain
Relieves muscle/joint pain
Improves lustre and softness of the skin
Kathibasti (Musculoskeletal Treatment)
Lower Back (includes back massage): £45.00
Knee (lower leg massage): £40.00
Neck (includes back massage): £45.00
A deep tissue therapy using heat and oils to soften, repair and nourish aching, tight muscles and help repair the tissue.
A dam made of dough is placed over the affected area and filled with warm medicated oil. After the removal of the oil a massage is performed on/around the affected area.
Benefits:
Increased blood flow
Relieves muscle/joint pain
Assists with pain relief
Helps soften ligaments, tendons & muscles
Look at our Special Offers