Ayurvedic Treatments
Increase your well-being and long term health,
by listening to your inner voice.
Ayur-ved is based in Nottingham
For further information and to make an appointment contact Sapna on
07958 670 664
or
sapna@ayur-ved.co.uk

Ayurvedic Massage & Holistic Therapy
Maintaining your balance with the knowledge of Life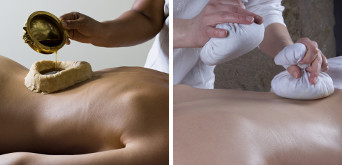 Abhyanga Marma - Full Body Massage £65.00
6 treatments for £330.00
Starting with the head, Ayurvedic Herbal Oil is massaged into the scalp and the body to stimulate the Marma Points, leaving your body rejuvenated and revitalised and your scalp and hair nourished.
Benefits:
Exfoliates
Improves circulation
Reduces stress and tiredness
Improves muscle tone
Eczema
Peethabhyanga – Back Massage £40.00
Using rhythmic massage techniques with warm oil this treatment relieves tensions, back pain and general feeling of relaxation.
Benefits:
Releases tension
Improves circulation
Shirobhyanga – Head, Neck and Shoulder Massage £35.00
The head, neck and shoulders are massaged in a rhythmic style using Ayurvedic Herbal Oil, focusing on the Marma Points. This treatment also nourishes the scalp and promotes healthier hair.
Benefits:
Promotes hair growth
Relieves stress, fatigue and anxiety
Migraine
Insomnia
Padabhyanga – Lower leg and Foot Massage £35.00
Starting with the lower leg, followed by a foot massage this treatment stimulates the Marma Points to reduce stress and tension leaving you feeling relaxed and your feet feeling nourished. A relaxing treatment after long flights.
Benefits:
Improves blood circulation
Pinda Sweda – Massage with Muslin Bag or Bolus - Full Body: £75.00 - 6 treatments for £390.00
Back Only: £45.00 - 6 treatments for £240.00
Herbal Powders are placed in a small muslin bag and rhythmically pressed over the body with warm oil.
Benefits:
Arthritis and back pain
Relieves muscle/joint pain
Improves lustre and softness of the skin
Kathibasti (Musculoskeletal Treatment)
A deep tissue therapy using heat and oils to soften, repair and nourish aching, tight muscles and help repair the tissue.
A dam made of dough is placed over the affected area and filled with warm medicated oil. After the removal of the oil a massage is performed on/around the affected area.
Lower Back (includes back massage): £50.00
Knee (lower leg massage): £40.00
Benefits:
Increased blood flow
Relieves muscle/joint pain
Assists with pain relief
Helps soften ligaments, tendons & muscles
Mukhabhyanga – Face Massage (this is not a facial but a face massage) £35.00
Working on the face, neck and head, the Marma Points increases energy flow and lifts the muscles; also beneficial for problem lines.
Benefits:
Physical and mental wellness
Anti-ageing
Improves muscle tone
Soundaryam Vardhini Holistic Glow Facial £55.00
Using a range of Ayurvedic products this facial boosts energy and at the same time soothes and relaxes.
Starting with cleansing the skin it is then followed by an Ayurvedic facial massage to boost energy flow. The treatment includes a soothing head massage which is give while the soft Ayurvedic face scrub gets to work as a relaxing foot massage while the face mask works its magic and eases away the tired muscles.
Benefits:
Lymphatic drainage
Deep relaxation
Anti-ageing
Shilajita Mumiyo – Supreme Results Facial - £70.00
Soft bundles filled with herbs are placed in a small muslin bag and used to stimulate vital Marma Points to help reduce facial tension as well tighten and tone the skin. It also targets signs if aging, combating fine lines and wrinkles, leaving you with a bright and nourished complexion.
Benefits:
Revitalising the skin
Deep relaxation
Anti-ageing
Hydrating
Look at our Offers
Treatment packages can be tailored for specific requirements.